The most popular colors of 2021? According to the American Pantone Institute, those will be two colors – the grey symbolizing balance and yellow for the hope. Will this combination take over make-up trends and fashion as well? Let's find out!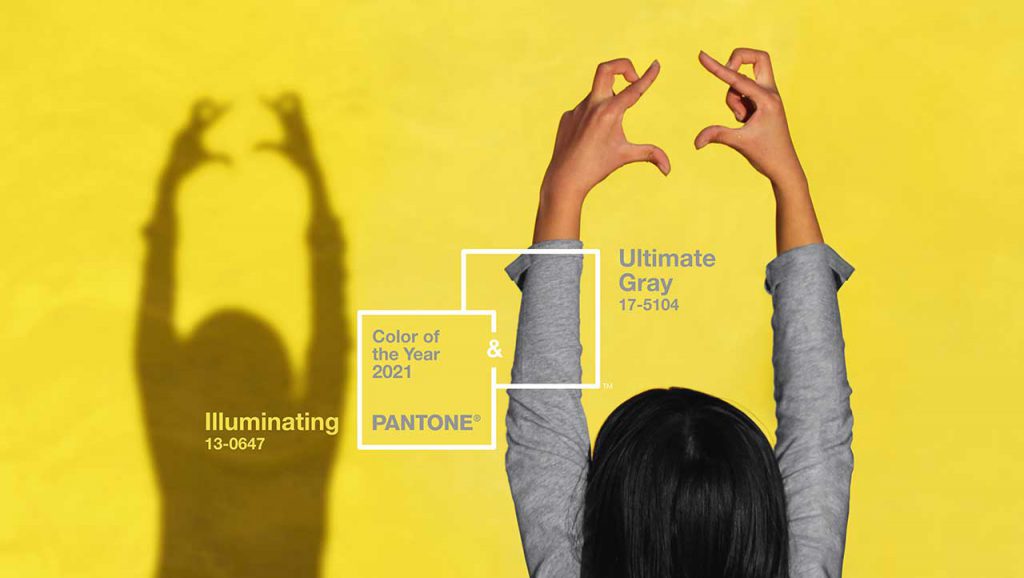 Pantone is well known, founded in the 60s in America printing institute, which palette was considered to be used as a model. No wonder that each year the coloristic trends announced by experts are closely followed by the designers, artists, or make-up artists.
The colors of 2021 according to the Pantone
2020 wasn't kind to us. There was no other way to reflect it in colors chosen by Pantone Institute who chose the ones that will be present in the next year's trends. Announced last year Classic Blue (the color of 2020) has its worthy successor. Even two for that matter!
This time Pantone surprises, because the color of 2021 will be a duet. Each of them individually is not that amazing but the combination of the two is a strong message that is supposed to accompany next year's trends. Ultimate Gray and Illuminating is a mix that should bring to mind only positive thought and give hope that the pandemic 2020 will soon be forgotten and that 2021 will be better.
What do colors of 2021 mean?
The choice of the colors for 2021 was not random.
Ultimate Gray – is light gray with deep shade and is expected to symbolize eternity, balance, calm, reality, and a stable foundation.
Illuminating – is vivid, canary, sunny yellow which supposes to stand for hope, an optimistic look into the future, confidence, and joy.
On one side we have calm gray and on the other crazy and positive yellow as a symbol of rebirth after the pandemic. In everyday stylization or make-up, those will set you in the good mood, restore balance and help enter the new year with so much needed calm. That is what Pantone Institute's assumption was and Ultimate Gray and illuminating as colors of 2021 as a perfect combination.
The colors of 2021 in the beauty industry
Ultimate Gray and Illuminating are two colors that are easy to introduce to your everyday life – not only in the interiors but also in stylizations. The beauty industry will be flooded with them mostly in fashion, make-up, and manicure. If you want to feel the vibe, you can equip your wardrobe and beauty bag with stylish gray and sunny yellow shades.
● How to introduce the 2021 colors to fashion?
When it comes to Ultimate Gray then each one of us is able to find something in this color in her wardrobe. In the upcoming season, you just need to enrich the basic gray with an accessory in Illuminating color. It can be one of the stylization elements (yellow scarf, handbag, sweater), accessory in form of jewelry but also yellow in total look version – though with the latter one you should be careful.
● How to introduce 2021 colors to make-up?
When it comes to make-up, the thing is a bit more complicated because gray and yellow are not quite popular colors. The perfect solution that goes well with the newest trend is smokey eyes in Ultimate Gray with a beautiful line in the yellow color, i.e. Illuminating. The contrast between the two colors will make this make-up look amazing though it is an option for special occassions.
● How to introduce 2021 colors to a manicure?
Manicure in 2021 colors mostly gray base with yellow decorations. Those can be sunny dots, stripes, or beautifully drawn or glued on sunflowers. Obviously, we can also go for a solely yellow manicure or neutral gray. However, the combination of the two looks much better, e.g. when every nail is treated with two shades of gray and has contrast in form of a geometrical yellow pattern.