This year, I've decided to start celebrating every moment. If I have a free evening, I'm going to care for my body and hair as well as do my best to feel good. That's how the SPA project has come into being, combining beauty treatments, DIY cosmetics and relaxation.
Hair oil treatment belongs to the best and most pleasurable treatments. I enhance it with a DIY herbal mixture for rinsing the hair. Today, I give you both recipes. Let's begin!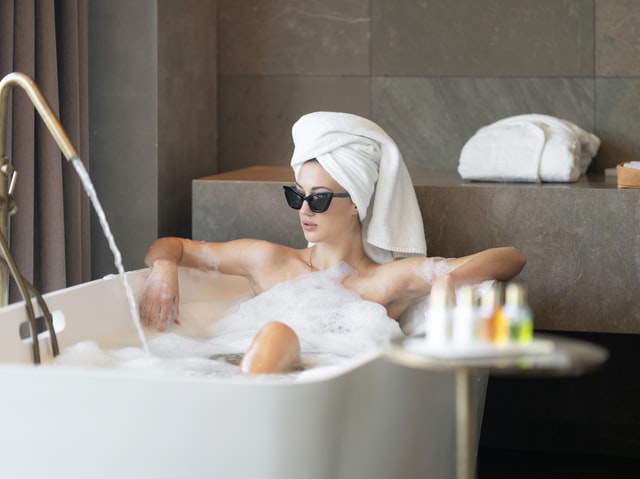 If you don't know what a hair oil treatment is, let me help. It's a beautifying treatment which has come straight from India where it's been long respected and cherished. While we apply chemical-filled masks and conditioners, Indian women treat their hair to natural oils, often mixed with herbs or plant extracts.
Oiling hair for the first time, choose one oil that goes along with your hair condition – its porosity. I'm sure you all know if your hair is in good, medium or awful shape. If you want, you can find lots of info online and even do a special hair porosity test.
Personally, I'm in love with jojoba oil, argan oil and avocado oil. Too bad, I don't know the effects when you mix them up because I don't have such a huge knowledge. I prefer to apply them by turns.
DIY – SPA with Hair Oil Treatment Step by Step
I wash my hair with a cleansing shampoo which opens hair cuticles, removing product build-up and impurities. In this way, I'm sure that pure molecules of oils get inside my hair.
After towel-drying, I apply a chosen oil or a ready-made blend of oils which goes with my hair type. I cover the scalp and hair throughout its length.
I put a shower cap on not to smudge everything with the oil. I often do an extra face mask making use of a moment for relaxation.
I take a book, light scented candles and an oil warmer.
After around two hours, I wash the oil off, shampooing again. For final rinsing, I use a special herbal infusion – a mix of horsetail, nettle and glycyrrhiza root (one spoon of each). Remember that the mixture should cool down so that it closes cuticle scales for smoothness.
That's it! Now, take a blow-dryer 🙂