We all love the summertime for the nice warmth on the skin, lovely suntan and warm sand. Too bad there are some things that can give us a hard time – vanishing make-up wins in this category. How to apply it for long-wear effect and keep it from running down the face in the heat?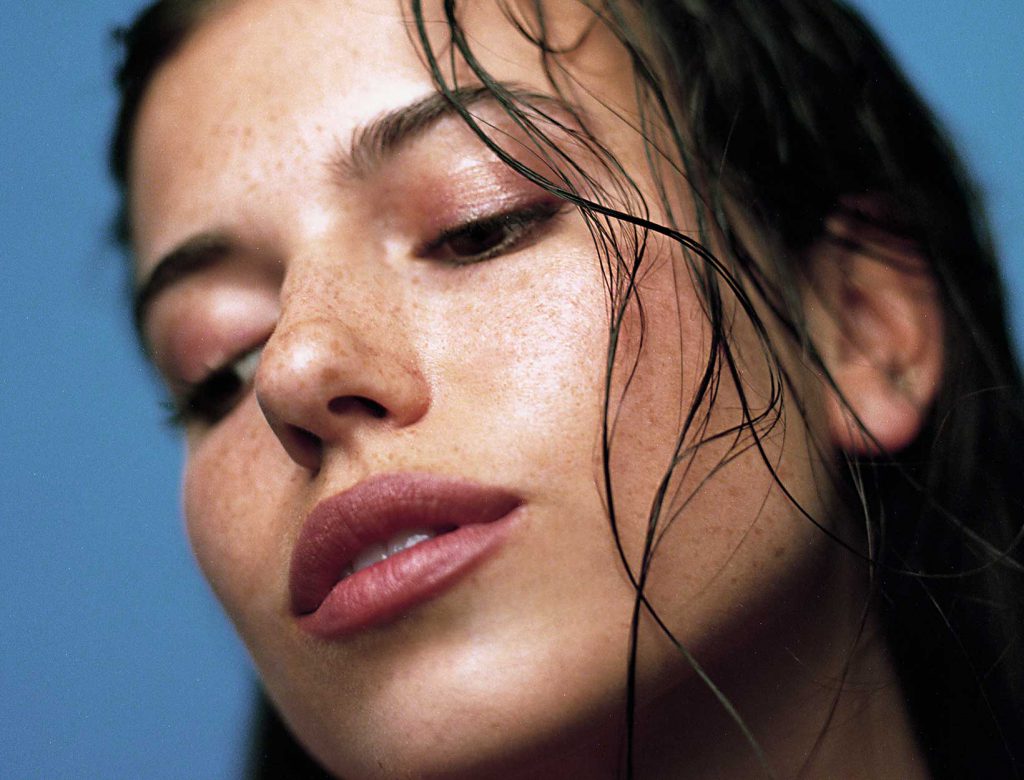 You might say that the best remedy is not applying make-up in the summer at all. Unfortunately, most women can't do without it. They need make-up to camouflage the imperfections and boost their self-esteem.
How to keep your make-up long-wear in the summer? Until recently no one expected summer make-up to last more than an hour or so. These days there are so many products and techniques that the long-wear effect is really achievable. Even in the blistering heat!
Hydrating the skin is essential
When we think of long-lasting make-up, the right skin care is the first thing we must focus on. Make-up won't last on oily or very dry, flaky skin – only healthy skin makes a good foundation for long-wear make-up. How to start then?
Moisturising is the key to success. No matter if your skin is oily, dry or problematic, you must provide it with water. There are three reasons why you must put a moisturizer before make-up:
hydrated skin produces less oil;
when skin isn't dehydrated, it makes a good match with foundation;
moisturized skin is way smoother.
Oil as a make-up primer
Oil taking the role of a primer is a good idea too. Generally, we use primers to get long-lasting make-up and make foundation glide smoothly across the face. The thing is, though, that an ordinary make-up base may prove comedogenic and heavy for the skin in the summertime. In turn, the skin is likely to overproduce oil, break out and become irritated.
Therefore, it's better to get a pure oil instead, for example jojoba oil, almond oil or argan oil. In combination with hydrating hyaluronic acid serum you get a superb duo for perfectly moisturized, smooth, secured skin. Oil is an all-natural, effective make-up primer that doesn't overburden the skin – a perfect pick for hot summer days.
Summer make-up products
If we desire long-lasting make-up, we must also remember that some products are unsuitable for the hot summer days. Ditch foundation, go for BB cream – it's lighter, non-overburdening, plus it has a conditioning effect and evens out the skin tone. This applies to other products: replace thick formulations with mineral make-up. The skin will thank you, looking lovely, and you will avoid sun damage and irritations.
NOTE! In the summertime, pick SPF-rich products: BB creams, CC creams, mineral powders and moisturizers. This way you can keep your face safe from the UV damage and photo-aging.
Less means more
It's good to follow the rule: less means more/ quality over quantity. Instead of five layers of make-up, apply one. You won't get full coverage but the face will feel light, not looking cakey, plus products won't be running down because of heat. It's good to remember that:
smaller amount of products translates into longer-lasting make-up;
one quality foundation is better than three budget ones;
face contouring isn't necessary in the summer;
natural-looking make-up is the best summer pick.