Every woman dreams of having gorgeous, long and full-looking eyelashes. Sadly, not every lady is lucky enough to have them. There are some methods – luckily! – that will help you achieve this beauty goal pretty easily.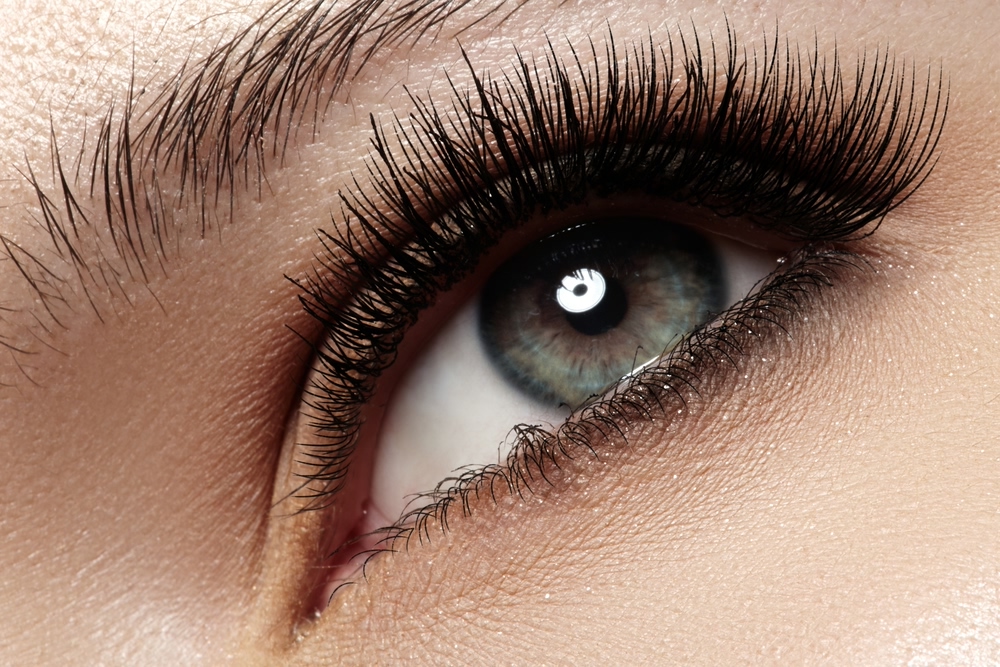 The most common ways to boost lash growth? Will castor oil and eyelash enhancer suffice or do you have to reach for some more advanced products, like those used in ophthalmology?
Eyelashes falling out? Why?!
Throughout a day your eyelids should shed 2-3 lashes. However, if you spot that there are more eyelashes that have fallen out, you should see a physician because this may be a sign of some serious disease. Also those whose hormonal balance is disturbed, who suffer from thyroid hypo-activity and women during their menopause, they all are prone to lose more lashes than a healthy person. Furthermore, this troublesome condition may follow the conjunctivitis and eyelid inflammation. Last but definitely not least, chemotherapy, alopecia areata and vitamin shortages are other causes of excessive eyelash loss.
Stunning eyelashes tips
Not every single woman has long and full-looking eyelashes, yet every woman would like to have them. What are the ideas to grow long lashes? What beauty products promoting lash growth should you use?
Eyelash serum
This is one of the top products designed to satisfy lash needs. You can use it either as a mascara primer or solo. Once you start treating your lashes with such a product, you can be sure that it will stimulate the follicles to grow more hairs. Apart from the intensified growth, a decent eyelash serum is expected to leave lashes fuller-looking, and the effect is even more dramatic after applying a few coats of mascara. Naturally, if you want to achieve stunning results, you must be persistent and keep applying an eyelash serum regularly to the lower and upper eyelids. Just a really tiny amount of the serum suffices to supply the follicles with a daily portion of the essential nutrients.
In most cases the results become clear after a month of regular use, yet the entire treatment lasts 2-3 months. Evening makes the best time for applying an eyelash serum. Why? Because during the night all the active substance will have enough time to penetrate the skin and start stimulating the follicles. Your persistence in applying an eyelash serum will be rewarded – the eyelashes will become visibly longer, thicker and nourished.
It's also worth pointing out that there is another type of lash enhancer that is said to combine the qualities of an eyelash serum and an eyelash conditioner, and it's known as eyelash balm.
Good eyelash care habits
Developing some good eyelash care habits is a key to success. Eyelashes are really gentle, therefore vigorous rubbing that most of us do while removing mascara coats causes them huge damage. Indeed, being gentle while taking off eye makeup makes the difference. Otherwise, don't be surprised if you notice that the lashes are falling out and are brittle. In addition, always make sure that the removers you use are formulated with quality ingredients.
Remember to replace an old mascara with a new and fresh one regularly. It would be even better if you cleaned the wand after every use. Applying a mascara that is past its expiration date is a terrible idea.
If you want to gift your lashes with an extra portion of nutrients, you can treat them with olive oil or Vaseline. Green tea leaves help you grow lashes quicker.
Take care of yourself
A well-balanced diet that is rich in vitamins and minerals is what will benefit your lashes too. Eating plenty of fresh vegetables, fruit, nuts and fish will do you nothing but good. If you want to enjoy perfect health and stunning looks, that is beautiful hair, flawless skin and full-looking eyelashes, you just have to supply your body with a daily portion of nutrients.
Sleep also matters. Try to improve the quality of your night-time rest. Uninterrupted and healthy sleep will make your body stronger. Don't refrain from sleeping long enough.
Don't use an eyelash curler
Or at least try to cut down on using it to as little as possible. It must be realized that eyelashes suffer terribly, especially when you use an eyelash curler regularly and unskillfully. Don't you ever use an eyelash curler if your eyelashes are already coated with mascara.
Mascara
This is the basic eyelash enhancer. Among the thousands of mascara products, try finding the one that comes with a wand that suits your needs. Another issue worth pointing out is that for day-to-day use, you should choose a regular mascara. Waterproof mascaras shouldn't be used too often because they are hard to remove. And since they are hard to remove, we tend to be less gentle at taking off the coats which leads to breaking the lashes and pulling them out.