Healthy hair is also beautiful hair. When taking care of the strands and improving condition you must use proper cosmetics. In this case, the best thing that will help you beautify your hair is Kallos Elixir oil. It is a perfect complement to the treatment offered by the brand and its natural cosmetics. The oil can also be used as an independent product that will work just as well.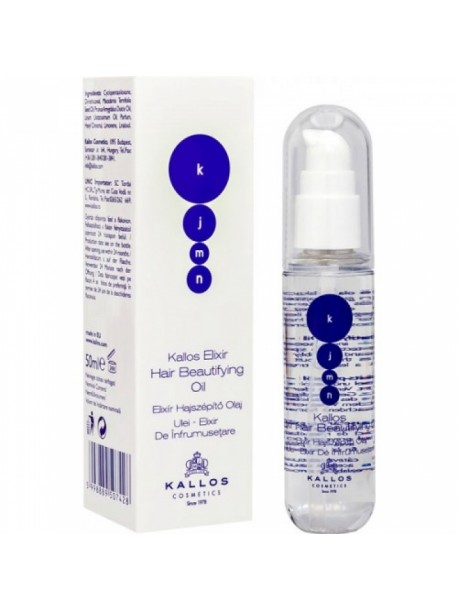 How does Kallos Elixir work?
The main task of the Kallos Elixir oil is to beautify the hair. What's more, the product counteracts the split ends, provides hydration, smoothes unruly strands and provides a natural shine. Kallos Elixir oil protects streaks from breaking, falling out and the adverse effects of harmful external factors. Systematic use of the cosmetic strengthens the hair and nourishes the hair follicles. The treatment also makes the strands soft to the touch and easier to style.
What does Kallos Elixir contain?
Kallos Elixir comprises various natural ingredients, such as:
macadamia oil – is the wealth of fatty acids, micronutrients and vitamins. It has a moisturizing, protective and nourishing effect. It has a similar resemblance to human sebum, thanks to which it has a much better effect on the scalp and hair. Macadamia oil smoothes strands, polishes, accelerates hair drying and regenerates split ends;
almond oil

– contains a lot of nutrients that reach the deepest hair structures and take care of the hair from within, it has a moisturizing, smoothing and regenerating effect; it provides dull and dry highlights with glow and can rebuild damaged ends of hair;

flaxseed oil

– contains fatty acids, vitamins and microelements, nourishes the ends of hair and scalp, has moisturizing and polishing properties, thanks to the product the strands are more flexible and easier to style, flaxseed oil protects the hair while styling hot and against harmful factors from the outside.
How to use Kallos Elixir?
Apply one or two servings of oil to the palm of your hands and rub in your hair. A larger dose of the product can be applied to the tips. Kallos Elixir oil can be used for both dry and wet hair. An interesting method of application is to use it as a mask or a conditioner applied to clean, dry hair. If you apply the cosmetic this way, remember to leave it in until it's fully absorbed; the oil should not be rinsed off. One bottle contains 50 ml of the product. After opening the package, Kallos Elixir oil is valid for 24 months.