Applying lash extensions is one of the most popular in-salon procedures. It has lots of benefits but it's good to know its downsides before going for falsies. Are fake extensions always a good choice? Let's see the profit and loss balance.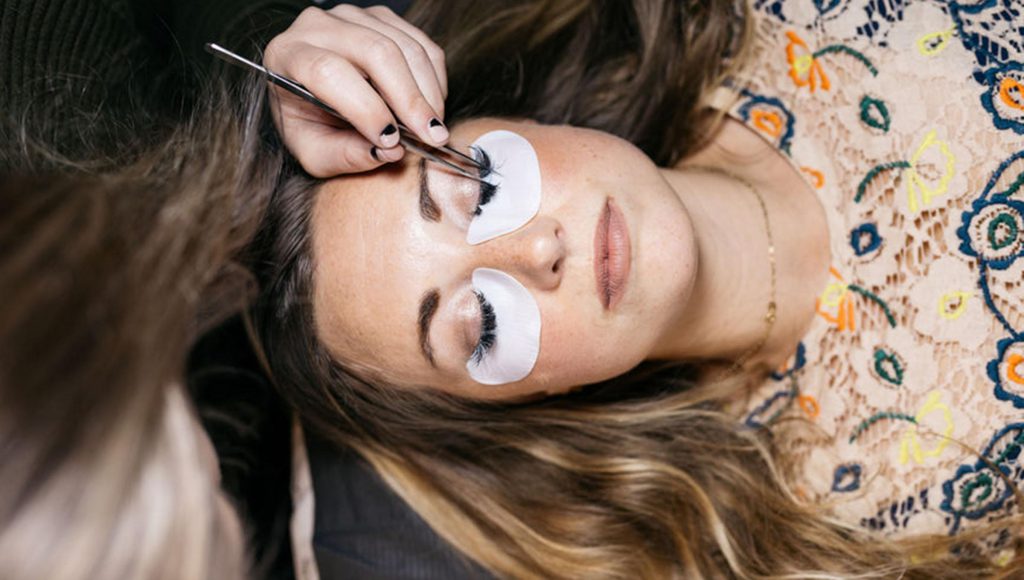 During the procedure, an esthetician applies fake lashes to the natural hairs. Depending on the method, one or more lashes are attached to one natural lash. The effect is fuller lash line and eye definition without mascara.
Benefits of fake eyelash extensions. Why do they make a good choice?
1. Instant effect
An eyelash serum or oil takes a few weeks to lengthen the lashes. With false extensions, we don't need to wait that long because the effect is noticeable after first treatment. We get thick, full-looking lashes in a few hours.
2. Mascara is needless
Eyelash extensions replace your make-up products. Mascara is no longer must-use because falsies are long, thick, full-looking and there's no need for enhancing them.
3. Lovely-looking lashes 24/7
A mascara needs to be removed every day while semi-permanent lashes look flawless 24/7, no matter the time of the day.
4. Stunning lashes for a few weeks
If lashes are applied correctly, the effect should last for long. One semi-permanent lashes procedure equals even two months with fabulous, thick lashes that don't need any make-up. However, the exact time depends on a few factors.
5. Saving money
You pay for the lashes while getting them done, and enjoy the effect for long weeks. You don't spend money on mascaras or make-up removers. This really pays off.
Bad sides of fake extensions. What should you be aware of?
1. Getting lash extensions is pricey
This is one of the most expensive salon treatments. If you want top quality, you pay more. Budget lashes may turn out to be a trap leaving you with wrongly-applied extensions or damaged lashes.
2. You need refills
Unfortunately, you need to get refills regularly because falsies fall out with the natural lashes. It may be necessary to refill them after just 2 or 3 weeks from procedure.
3. In some cases it's impossible to apply falsies
You apply falsies to natural lashes so if yours are very sparse or you've lost them because of chemotherapy for example, then applying fake extensions is impossible to do.
4. After care
You need to follow some rules. Within 24 hours from the procedure you must be careful: touching or wetting them is forbidden. For a few days you can't go to the swimming pool, sauna or do other things which would cause lashes to fall out. You always need to be careful with your falsies, e.g. while removing or applying make-up.
5. Unnatural looking lashes
The unnatural effect is one of the top arguments against lash extensions. Even though there are some methods that make falsies look real, we can get easily carried away, making them too thick or making the face look cartoonish when extensions aren't attached correctly.