In order to perform Bollywood eye make-up on your own, you will need the following cosmetics: Megapixel Smashbox triple eye-shadow palette, Aqua Eyes Make Up For Ever black eye pencil, Sephora make-up eyeliner brush, Aqua Black Make Up For Ever waterproof eyeliner, Flush Smashbox blusher, lipgloss Gloss Ultra Shine, Hippie Pink from Sephora, Smoky Lash Make Up For Ever mascara, Make Up For Ever false eyelashes, and zircons Strass Diamant Make Up For Ever.
The following eye make-up will be of purple shade. It suits all women having so-called Autumn beauty type as well as those women who have got green iris of the eye and brown hair. If you have made your face prepared for the upcoming make-up, then you can start decorating your eyes with Bollywood make-up style. But what is this face preparation all about? To make a long story short, it consist in applying a make-up base, a make-up foundation and a powder. You can also apply the same cosmetics on the eyelids in order to make eye-shadows hold better and longer. In fact, you can put on eye-shadows primer only.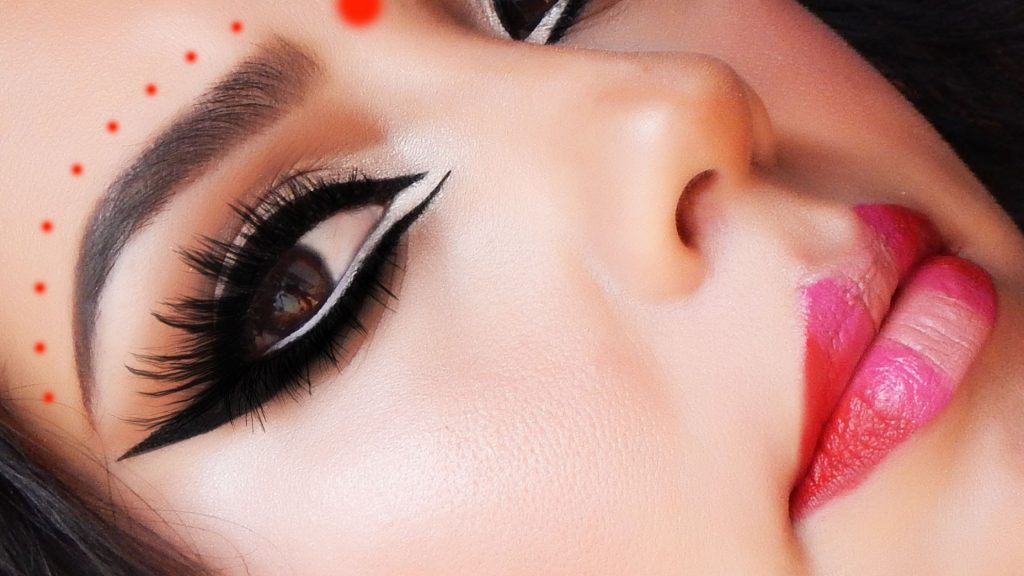 Gather the brightest eye-shadow provided on a make-up brush and distribute it on your upper and lower eyelids as well as under brow bone area. Apply additional layer of the same cosmetic on inner corners of the eyes. The middle part of eyelids should be covered with the middle-pigmented shade. Next, the darkest eye-shadow has to be applied on outer corners of the eyes. Now, take a blending brush and make the shadows mixed. Mind you, try to create a gradient sort effect. In other words, you should achieve a smooth transition between the brightest colour and the darkest one. Next, the edges of eyelids should be outlined with a soft, black eye pencil. After a while, apply a dark eyeliner. Due to the cosmetic, you should create a triangular shape in inner and outer corners of the eyes. At the end, attach the false eyelashes and coat these with a mascara precisely. Now, time for zircons. Attach these using the same adhesive you have used for false eyelashes application. These kinds of decorations can be attached above eyebrows, right under lower eyelids, in corners of the eyes and on the outer parts of the eyelids. Do not forget about the lips. Cover these with your favourite, yet matching the purple eye make-up, lipgloss.