It's common knowledge that vitamin C has health benefits: it is a potent immunity-booster. Do you know it has a great effect on the condition of skin as well? It ensures skin health, smoothes the skin tone, and… has so much more to offer! A good vitamin C face serum provides all of the benefits! Keep reading for top-rated serums with the most effective type of vitamin C. Check which one produces the best effects.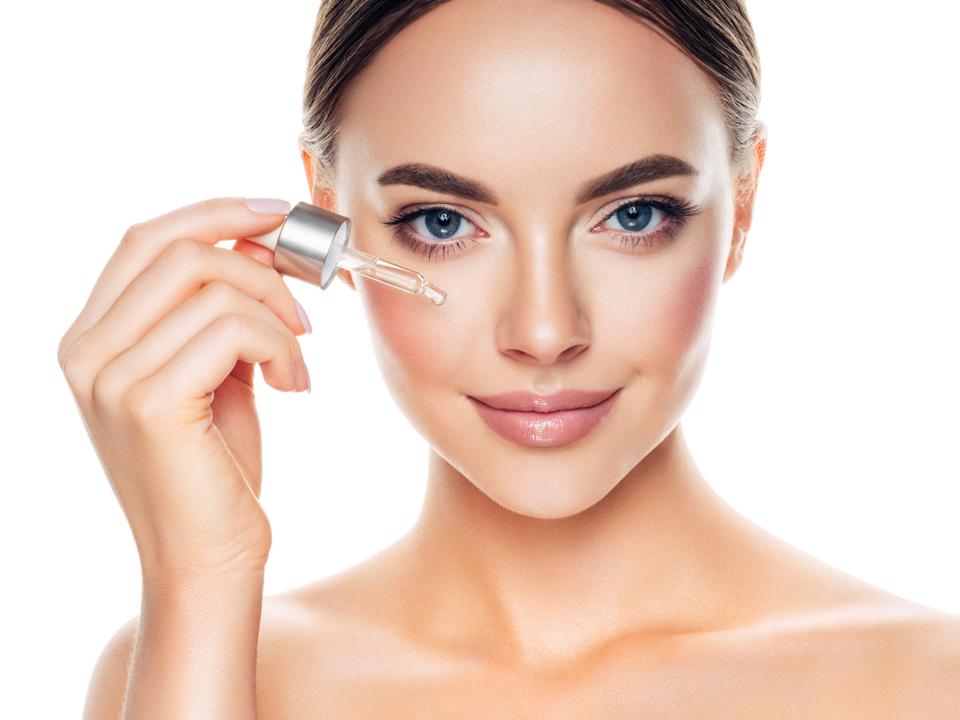 5 Benefits of Vitamin C that Make It Rock!
1. Vitamin C plays a big role in collagen synthesis.
Collagen is a protein which supports the skin. Its optimal level guarantees skin's youth and plumpness. Over time the structure of collagen gets damaged because of the aging process and aggressors like stress, UV, drugs, making the skin sag and age prematurely. Vitamin C is a remedy! Shockingly, its regular and long-term application may hugely intensify production of collagen. Vitamin C is a potent antiaging substance!
2. Vitamin C is a major revitalizing and nourishing ingredient for skin.
Facts cannot be denied: vitamin C nourishes and repairs damaged skin, plus makes the face look rested and radiant. What's more, it promotes synthesis of ceramides for perfectly-moisturized complexion. Its ability to prevent inflammation is appreciated as well.
MUST KNOW!
Did you know that some essential skin-enhancing ingredients work worse without vitamin C? Vitamin E, called the vitamin of youth, is an example.
3. Vitamin C busts pigmentation spots.
It's been long-appreciated for high effectiveness in brightening the complexion for smoother skin tone. No other vitamin boasts this power! Vitamin C fixes discolored skin, so you can get rid of post-sun, acne or age spots.
4. Vitamin C products can be used in the summer worry-free.
You probably know that some ingredients in cosmetics cause photosensitivity. Thankfully, vitamin C isn't one of them. On the other hand, it boasts the ability to protect from the harmfulness of solar radiation. It isn't a typical sunscreen but it intensifies the protective effect of SPF products so it's good to use them together.
5. Vitamin C is a perfect choice for couperose skin.
Do you know that vitamin C strengthens delicate capillaries? It seals blood vessels and keeps them strong, and consequently prevents broken capillaries and puffiness.
Vitamin C: how to use it? Which type is the best?
Because it is well tolerated by the skin, it can be used both am and pm. Surprisingly, pure vitamin c – ascorbic acid – isn't the best choice because it is unstable and prone to oxidation, losing its potential fast. Among synthetic forms and all vitamin C derivatives, 3-0 Ethyl Ascorbic Acid is the most stable and has the best effect on skin. It remains stable and works wonders no matter if it's put into gel or oil serum. Why serum? Because serum is more intensive and concentrated on innermost layers of skin, penetrating them to repair and revitalize the skin. If you want real effects and better skin – serum is the best option.
The Best Vitamin C Serums – Great Results and Highest Ratings
NANOIL Vitamin C Face Serum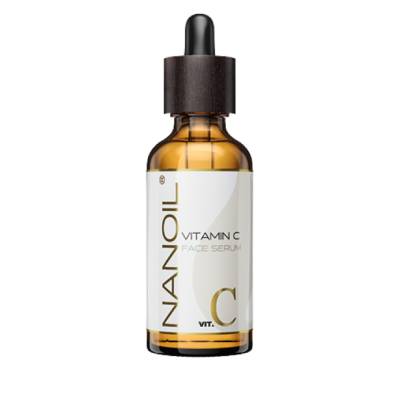 The best choice! It is a perfect conditioning and revitalizing face serum, smooth, lightweight, and with a highly-concentrated stabilized form of vitamin C. It is a potent antioxidant. Nanoil Serum offers the most effective type of vitamin C (3-0 Ethyl Ascorbic Acid) which perfectly remedies dull, tired-looking skin, and busts signs of aging. It effortlessly brightens discolored skin and keeps the face young-looking every day. Nanoil is good for those who have acne-prone complexion, pigmentation spots, or dull skin. It brings radiance and healthy shine back. The great thing is the good price, top quality, and the bottle that lasts for many weeks. Get more info or purchase your Nanoil on www.nanoil.us.
Dermaquest C Infusion Serum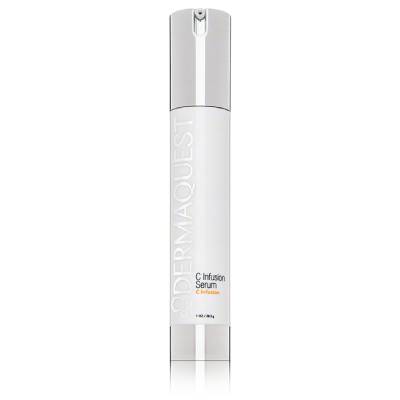 This serum contains lipophilic vitamin C which is good but very expensive (C- Tetrahexyldecyl Ascorbate). It is well-absorbed, penetrating the epidermis. Dermaquest C Infusion Serum is rich in antioxidants, and recommended mostly for dry skin, deep wrinkles, and lack of moisture. It shouldn't be used in the morning because of the high concentration of retinol. It is ideal for an evening routine. You'll appreciate it for vitamin E which is paired with vitamin C for intensive antiaging effect.
Lancôme Visionnaire Skin Solutions Vitamin C Serum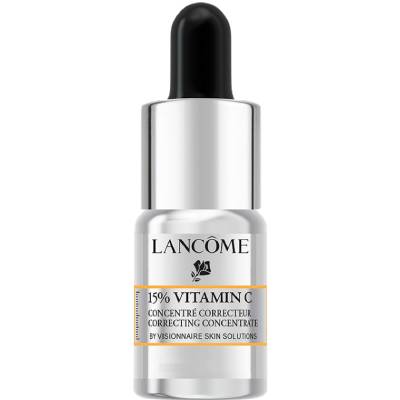 Despite the high price and small volume, it is quite popular and commented on. This unusual serum comes in two vials (0.33 oz each). Lancôme Visionnaire Skin Solutions Vitamin C has been designed to treat pigmentation marks and post-acne spots.
Lancôme Serum has a quite high concentration of vitamin C (15%). The formula also contains Jasmonate Derivatives which enhance reduction of age spots and normalize the level of melanin. It takes only a few weeks to give the effect of rested, smooth skin looking radiant.
iS Clinical GeneXC Serum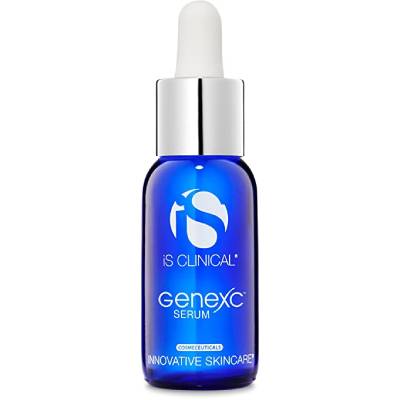 This gel-serum is based on 20% vitamin C – Ascorbyl Glucoside – which works very gently. Even though it is unsuitable for sensitive complexions, it is quite popular. The serum is easy to apply. It penetrates the epidermis to minimize wrinkles. Apart from vitamin C, iS Clinical GeneXC Serum contains sugar and fruit acids which improve the epidermal layer and add smoothness. You need a moisturizer after the serum to keep the moisture inside.
Paula's Choice C15 Super Booster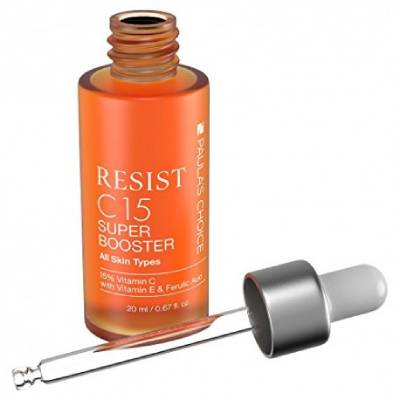 This strongly-conditioning booster contains 15% vitamin C and is enhanced by vitamin E, ferulic acid, and peptides. Even though the form of vitamin in this serum isn't the most effective, the product is appreciated for the content of other ingredients that maintain skin's youth and hydration, e.g. hyaluronic acid which binds water molecules and ramps up moisture levels. Regular application of the serum gives smoothness and elasticity. The face looks rested and is protected against loss of moisture.
SESDERMA Liposomal Face Serum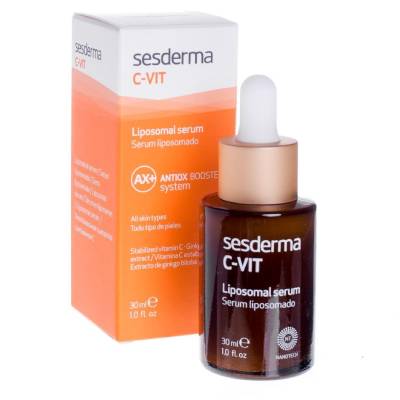 Quite heavy oil-serum which works great for aging, dry skin. It contains stabilized vitamin C (3-0-Ethyl Ascorbic Acid), and is good for boosting radiance. Even though some users say it congested their skin, it also gets some good reviews for leaving the face smoother and softer. The serum slightly brightens pigmentation spots, strengthens extremely dry epidermis, and smoothes fine lines.