Nanoil Castor Oil: castor oil different than others
I'm sure you've already heard about Nanoil cosmetics. The brand is a hit on the internet! It quickly gained fans since it's very luxurious, has a 50 ml capacity, and has many valuable properties. Are you looking for a multi-purpose and versatile cosmetic? You've come to the right place! Meet Nanoil Castor Oil, the leader on the net.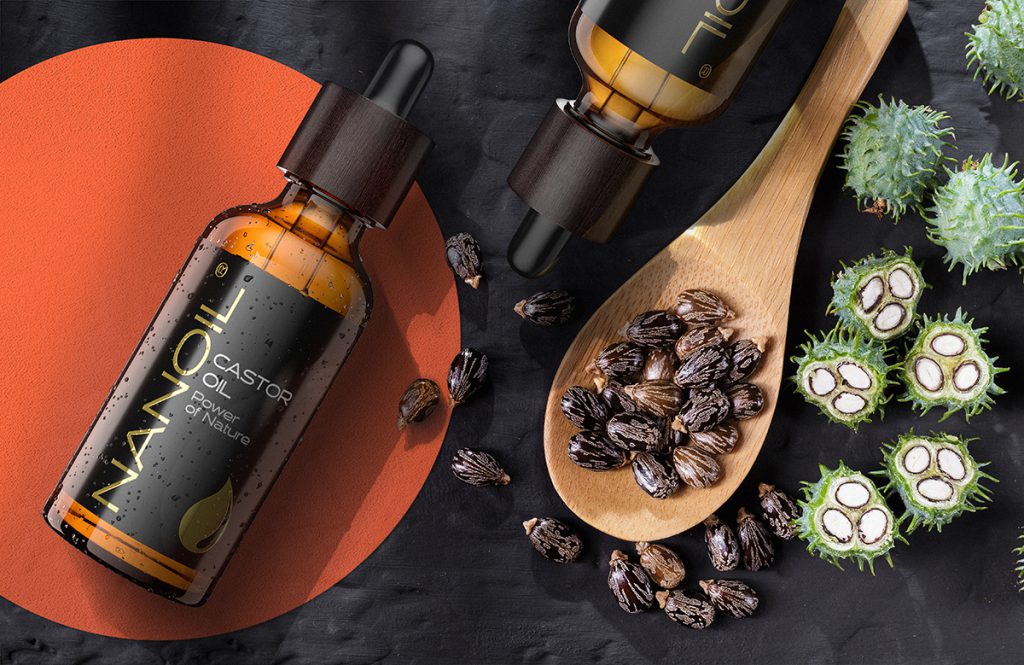 Castor oil is extracted from castor seeds. It contains lots of active substances that can't be found in any other cosmetic. You will find it under the name Ricinus Communis Seed Oil. Nanoil Castor Oil is totally different from the ones you've known so far. The oil is extracted in the cold pressing process, it's unrefined, and 100% organic. Every drop of it is the essence of what is most precious.
How does castor oil work?
It is an organic cosmetic certified by Ecocert. Created in harmony with nature, it is thick but lighter than the traditional castor oil, and moreover, it does not irritate the skin or cause allergies.
It's not only a natural cosmetic for hair growth, but also a conditioner, eye, and dry ends serum, quick regenerative treatment for nails, as well as it strengthens eyebrows and eyelashes. It deals with skin problems and sunburn. It can rebuild even extremely damaged hair and stimulate the hair follicles. It is a very common ingredient in conditioners, serums, creams, lotions, or homemade DIY beauty products.
Try out Nanoil Castor Oil if you feel that:
you are looking for a multi-purpose and versatile cosmetic to replace several other products,
you care about the organic and vegan ingredients,
you want the product to have a quality certificate and come from a good source,
you value the elegant packaging and convenient applicator,
you are looking for the highest quality product that receives excellent opinions on the net,
your skin is sensitive and needs immediate relief, you need nourishment and deep hydration of the skin.
How to use Nanoil Castor Oil?
You can use it in several ways, so pick the ones you like the most and have a go!
Method No. 1.

For hair growth
Castor oil is perfect for scalp massage to stimulate the hair follicles to grow. It makes the hair grow like crazy and additionally makes it healthy, strong, and resistant to damage. At least once a week, take a moment for yourself to gently massage your scalp for a couple of minutes. This way, you will improve the blood supply to the scalp and stimulate the skin. Just after a month of regular use, the hair will begin to grow back.
Method No. 2.

For hair oil treatment
This is the most popular oil for the oil treatment. It's worth starting your adventure with conscious care with it. Apply it regularly and you will quickly notice that your hair becomes nourished, naturally shiny, and regenerated. The oil can rebuild the hair structure from the inside, making it much stronger. It resembles human keratin, which is why it can penetrate the deepest layers of the hair.
Apply the oil to the entire length of the hair at least 30 minutes before washing. To boost the effect, you can even keep the product on your hair all night. Use as much oil as you need, depending on how long your hair is. Then wrap your hair in a cotton towel or a special head wrap.
Method No. 3.

For strong, dark brows and lashes
It is an effective and inexpensive, natural conditioner for brows and lashes. Castor oil works as an excellent serum that encourages hair growth. Apply a small amount of oil to your brows and lashes every day before bedtime. You can do it using a clean mascara brush. The oil will gently darken the hair, adding a natural and healthy shine.
More information can be found on the official website – nanoil.us